A student roundtable, Young Female Leaders at TSU, recently took place at Tomsk State University. Female international students with remarkable accomplishments and active outlooks on life spread awareness about female leaders in their countries and shared what the public sentiment is toward them there. Additionally, they talked about the importance of education and career building for women and shared thoughts on getting an education in Russia.
The meeting was the first in the series of events dedicated to enhancing the TSU communicative environment. They will revolve around culture, traditions, and languages of different countries—Russia included—that are represented in the student community of TSU, said the director of the Language Support Center of TSU International Division, Ekaterina Trifonova.
These events will be organized regularly and will include workshops, master class sessions, exhibitions, and even charity fairs, where people will be able to buy DIY items made by the international students. "We hope that events like these will attract even more international students to our university and contribute to a better communicative environment, where everyone can express themselves and appreciate cultures of other peoples," added Ekaterina Trifonova.
Among the meeting participants were the most active international female students, whose accomplishments include, but are not limited to, teaching foreign languages and curating language clubs in Tomsk and taking part in scientific conferences, as well as in all-Russian and international competitions and projects. The participants included:
3rd-year student at the Faculty of Geology and Geography, Oudomphone Souvannavone (Laos)

2nd-year master's student at the Faculty of Foreign Languages, Rizqina Ramadhaniah (Indonesia)

2nd-year PhD student at the Faculty of History and Political Studies, Michelle Veronica Yanga Martinez (Ecuador)

4th-year student at the Institute of Economics and Management, Precious Cheve Bwalya (Zambia)

3rd-year student at the Faculty of Foreign Languages, Zong Yang (China)

1st-year student at the Institute of Arts and Culture, Hoang Dieu Linh (Vietnam)

4th-year student at the Faculty of Histoy and Political Studies, Lina Zavialova (Russia)

1st-year master's student at the Biological Institute, Elohor-Oghene Amarie (Nigeria).
Students talked about life in their countries, introduced their countries' female leaders, shared their experiences studying at TSU and living in Russia, and exchanged questions.
Michelle Veronica Yanga Martinez is majoring in political and area studies. In addition, she manages the Spanish-language TSU social media account and works as a teacher of Spanish in Tomsk; she curates the Latin American student diaspora, represents TSU in the Russian Association of International Students, and is an assistant to the deputy in Ecuador, Diego Salgado.
"In Ecuador, all women have access to higher education, and with each day they become professionals in more and more spheres, even those that previously were explicitly male-dominated. But not all are able to complete their studies at a university due to high costs," shares Michelle.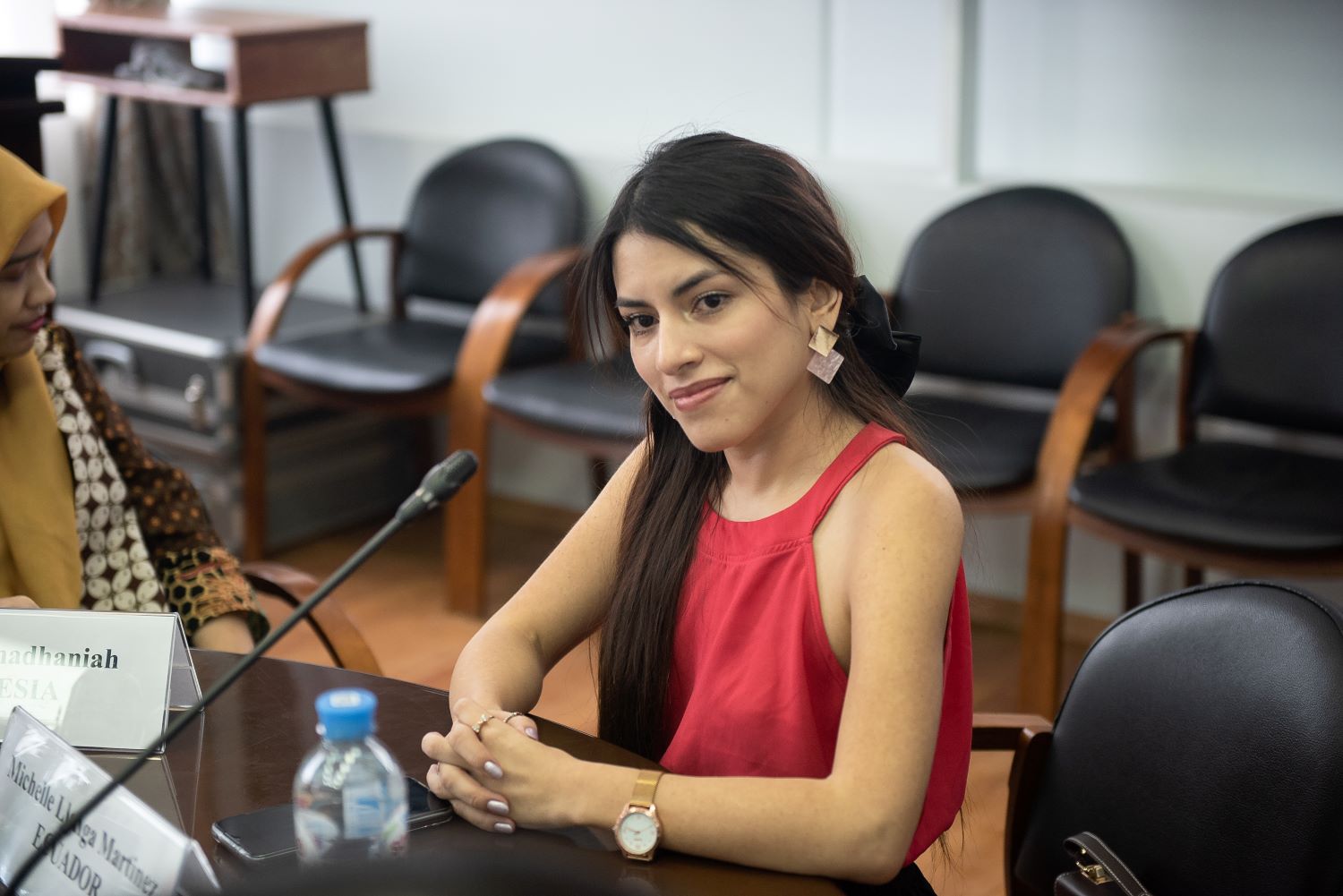 Michelle Veronica Yanga Martinez, TSU PhD student
"I am very thankful to TSU for awarding prospective students scholarships and grants—in my country this would have been much more complicated," says Hoang Dieu Linh. "I appreciate TSU for enabling me to achieve new heights professionally and research-wise. Here I got the necessary motivation and assistance to release my very own publications in Russia-only and international scientific journals: Prior to enrolling in here I could only dream about this."
Hoang Dieu Linh is majoring in design. A participant of the National Vietnamese Russian Language Proficiency Contest in the past and currently a recipient of Russian and Vietnamese state scholarships, she says she chose to study at TSU because of a wide range of educational resources the university has to offer and a diverse student community comprised of people from various countries. According to her, the meeting was a great opportunity to learn about challenges that women have to tackle in different societies. It is important for a woman to be ambitious—only then will she achieve a more fulfilling life, says the student from Vietnam.
For reference: The roundtable Young Female Leaders at TSU was part of the project "Enhancement of the Communicative Environment to Attract International Students from Target Countries" supported by the strategic academic leadership initiative Priority 2030.