On November 17, the first Tomsk forum Education Transformation took place at TSU. The forum was attended by about 300 people, both in person and online. For three days, representatives of Russian educational organizations discussed how to transform education in the contemporary world.
The forum was opened by the plenary expert panel "Contexts and Resources of Education Transformation Management". The experts set the direction for discussions, which then continued at individual sections and roundtables.
TSU's rector Eduard Galazhinskiy shared the collective vision of high-quality education at TSU:
"There are two frameworks that condition the transformation of education. With the first one being the focus on individual and societal well-being stemming from the concept of anthropocentricity. The second being the formation of an ecosystem that would enable providing resources for all kinds of ambitious tasks. To us, education holds the values of self-actualization and life creativeness that make up a foundation for acquiring professional competencies. Not only do we tell a student how the world works, but also teach them how to live in this world; we ingrain in an individual's consciousness the personal responsibility to grow professionally and personally."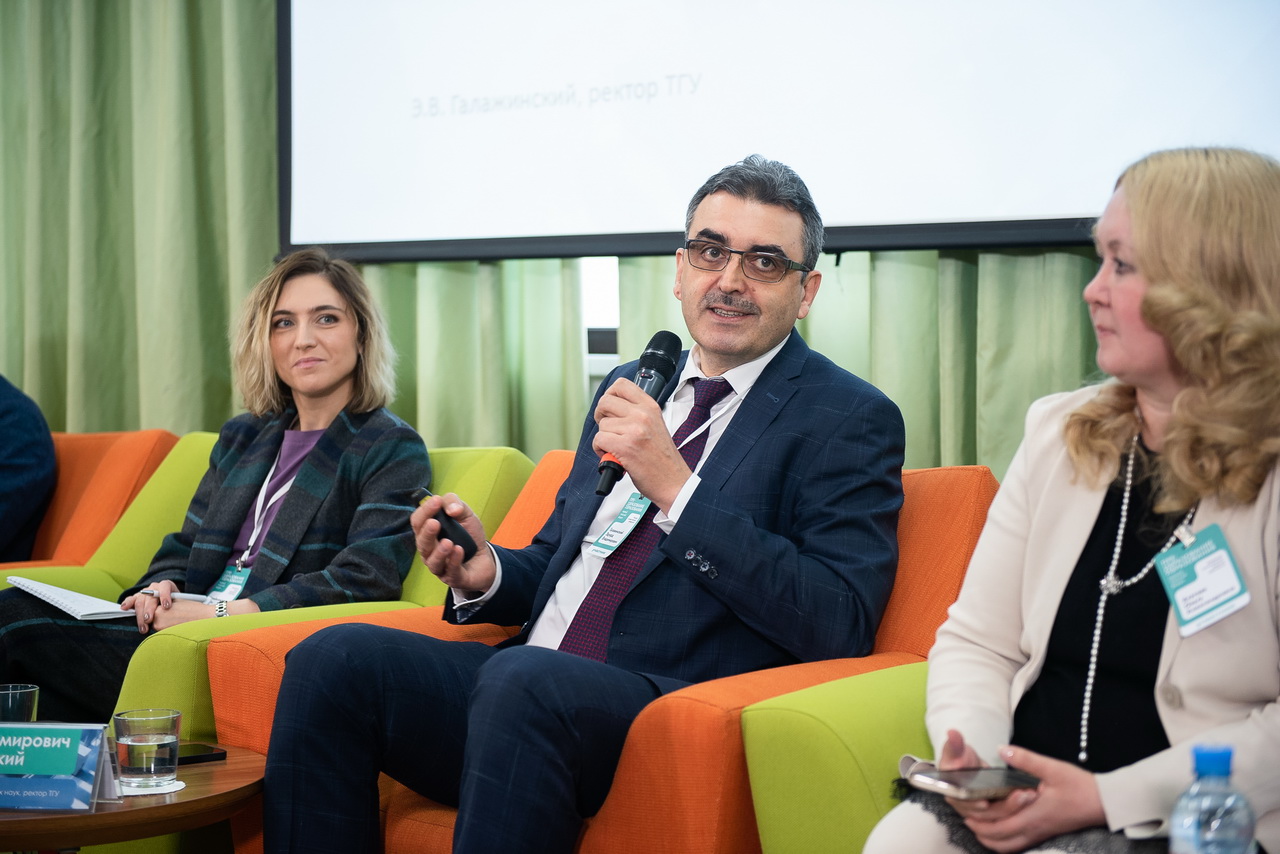 University Rector Eduard Galazhinskiy at the expert panel "Contexts and Resources of Education Transformation Management"
On the first day of the forum, section and roundtable participants presented cases and problems in the field of education management and quality. Higher education proved to have the widest scope of problems: three parallel sections were devoted to the discussion of university experience in the area of educational quality. Other sessions served as platforms for discussing various topics, such as additional professional, adaptive, and pedagogical education, transition to the digital environment, and others.
The second day of the forum was dedicated to research, what different sciences can do for educational transformation, and the development of universal competencies among students.
Alongside the main activities, arrangements were also made for the School of Beginner Research on Education. The school immersed students in the scope of problems and allowed them to define possible areas for scientific research. On Saturday, they presented their progress in the conference format.
The forum concluded on Saturday, November 19, with a symposium of educational institutions representing Russian universities. The agenda for the next forum Education Transformation–2023 will be discussed at an upcoming meeting, "Designing the Model of Work with Data-set on Relevant Education Transformation Problems".
The forum is organized by the TSU Institute of Education in partnership with scientific and pedagogical teams of leading Russian universities, national education development system authorities, and representatives of the regional educational ecosystem.