Sixteen TSU international students, who came here to study from Indonesia, Vietnam, Malaysia, Ecuador, Sri Lanka, Syria, Slovenia, and Egypt, recently went on a trip to a dairy farm in the Tomsk region and learned about rural life in Russia.
The tour was organized by the head of International Students Services Center, Tatiana Stakanova, jointly with the director of Cheese Story LLC, Dmitriy Urusov, and students of Middle School No. 40, Ivan Medvedchikov and Anna Danekina.
The international students saw the housing conditions necessary for keeping Jersey dairy cows, imported from the Netherlands, learned about the daily routine on the farm, and discovered some new, interesting facts. Additionally, they got to ride on a sleigh and tried milk, cheese, butter, and curd snacks produced by the company Van Classen.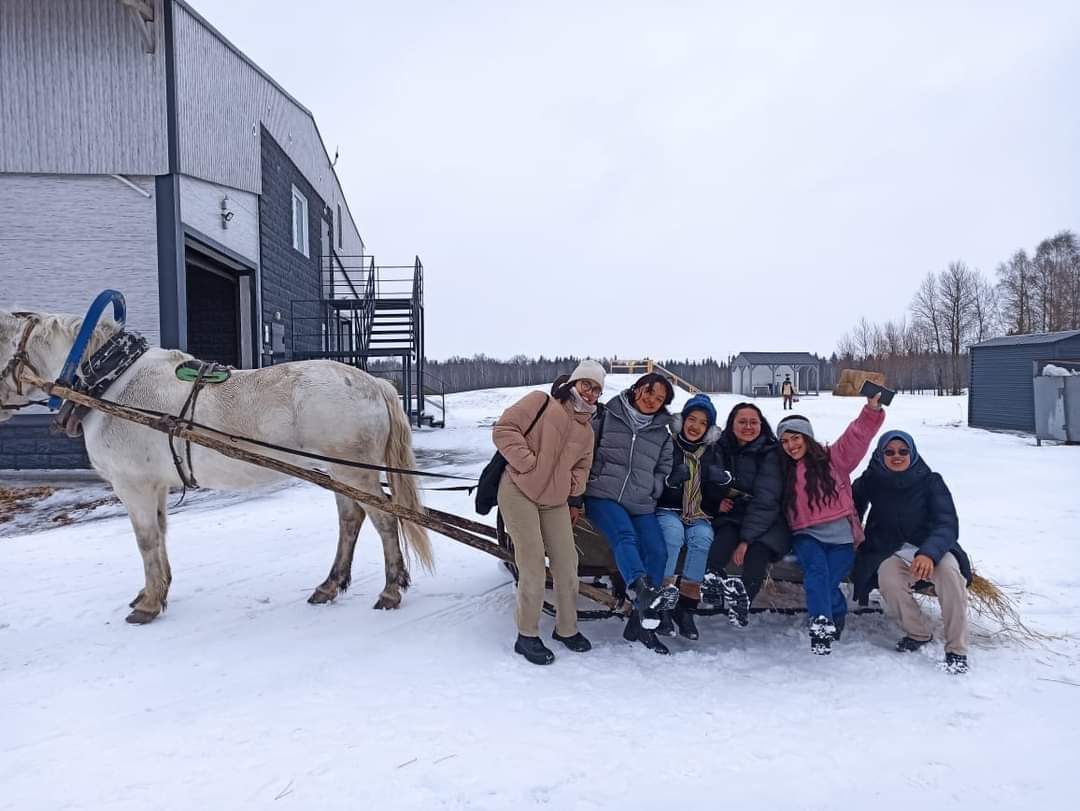 Trip to a dairy farm
Students enjoyed the trip and shared what they liked about it. The things that left the biggest impression were the robotic cow massager and robotic feed pusher. Here is what Rizqina Ramadhaniah, from Indonesia, had to say:
"I really enjoyed the trip. It was exciting seeing a Russian dairy farm for the first time! I got to ride a sleigh, drank some fresh milk... I was especially amazed at how they use robotic systems to feed cows, plus they have robotic massage units for cows."
For Christin Prativi Tumeluk, this experience was also unique, and she too was very glad to have participated:
"It was very interesting. I learned a lot of new things, I got to interact with the cute cows, and I tried some fresh dairy products, which were very delicious, by the way. Very grateful to TSU for this trip!"
For reference:
The dairy farm trip was organized as part of the project "Encouragement of Sympathy toward Russian Values in International Students through Intercultural Dialogue and Academic Identity" supported by the strategic academic leadership initiative Priority 2030.